By:  Rev. Kevin R. Airrington
Follow up— Answering my Critiques
Please email me any questions or comments you have about this or any other Biblical or question about any essay on this site.   If you wish for your quest
This essay is a resource for Christian families who are looking for answers about Halloween. But I know before I even publish this that I will take heat for even bringing up the subject of Christians celebrating Halloween.  Let me say up front that my goal is to lift up Jesus in everything I say and do.  I stand for truth. I stand for Jesus, and I am not ashamed.
INTRODUCTION
Several years ago I reposted two very good articles about Halloween on my Ministry Website: www.airrington.com. Go to my site and search for Halloween. I did not write these articles, but I thought they answered some questions about Halloween.  They are very good articles but what I should have done is take the time to write my own article and inject my personal beliefs, detailed history and what the Bible has to say on the matter.
Should you and I as Christians be involved in the celebration of Halloween?
Finding the answer to that question has been an interesting journey in itself.   I have my own reasons and Biblical reasons  to say the least of these — Joshua 24:2, 15, "And Joshua said unto all the people, Thus saith the Lord God of Israel…choose you this day whom ye will serve…but as for me and my house, we will serve the Lord."  This in it of itself should be enough.  The sad thing is, God is clear in His Word about a good many things…yet it seems that many tend to ignore them.  They tend to make God in his or her own image instead of the way around.  Many will not read this article because it is too long and we just can't be bothered, besides I just don't believe that stuff is our excuse.  "My pastor says Halloween is okay to celebrate."  Your Pastor is just a man and he is wrong about this!  That's a pretty bold statement, I agree, but perhaps after you read this essay you will change your mind.  I hope you do…for the love of God, and if Christ's death means any to you…I hope you do!
As I searched the Internet to get opinions, thinking I would find many God fearing Churches shout, "CHRISTIANS DO NOT CELEBRATE HALLOWEEN"…what I found instead of God's saints defending the Gospel of Truth was churches glorifying Halloween as some sort of Christian Holiday; perhaps as important or more important than Christmas or Easter.  Shocking! First I found a site that said, "10 Reasons why Christians should NOT celebrate Halloween."  Then the very next one in the search was, "7 reasons why Christians SHOULD celebrates Halloween."  Ay ya yay!  No wonder Christians are confused about almost every subject.  One site said, "We should not worry about spirits, ghosts, and satanic symbolism with Halloween we should worry about drunk drivers and other social issues."  Are you serious?  Yes, those things are important…again, may I… ay ya yay!  The Bible I read and perhaps yours is different than mine says, "For we wrestle not against flesh and blood, but against principalities, against powers, against the rulers of the darkness of this world, against spiritual wickedness in high places."  Ephesians 6:12
HISTORY OF HALLOWEEN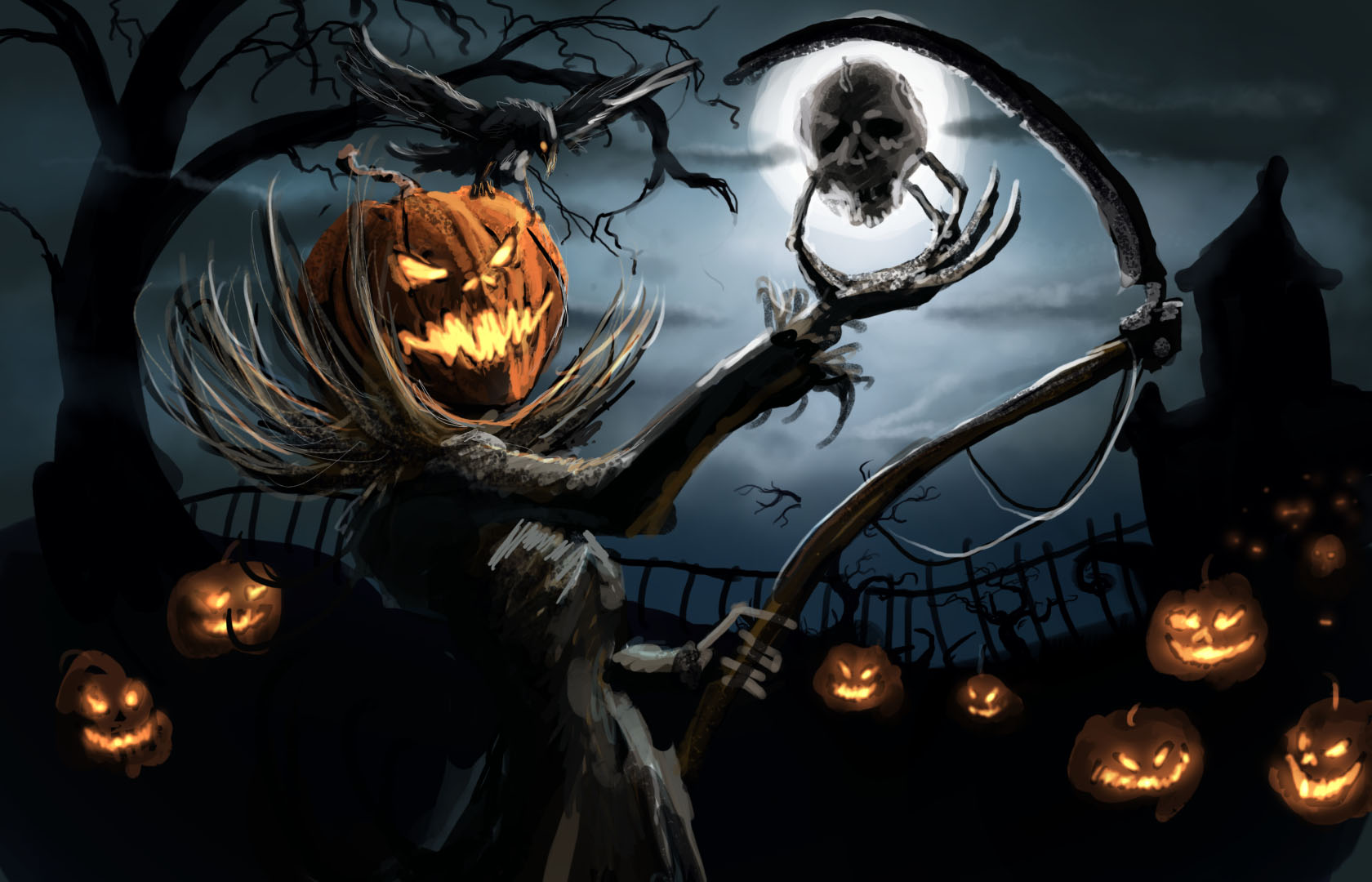 I have heard a lot of 'TALK' about Halloween being a Christian Holiday…just look at the thousands of people on Facebook, Youth Pastors and Pastors alike all justifying this holiday as some sort of I don't know what…some sort of Christian All Saint's Day.
Let's see about all this Christian Holiday business.
The name "Halloween" comes from the All Saints Day celebration of the early "Christian" church, a day set aside for remembrance of the martyrs.   The word Halloween comes from the term "All Hallows Eve" which occurred on October 31st, at the end of the summer in Northwestern Europe.  "All Saints Day," Or "All Hallows Day" was the next day, November 1st.  Halloween is the eve of All Saints Day.   "All Hallows Eve" was eventually contracted to "Hallow-e'en," which became "Halloween."
As near as I could find out; the earliest origins of Halloween can be traced back to about the time of Jesus Christ.  These origins were primarily from an ancient Ireland and Scotland.  On October 31st, the Celtics celebrated the end of summer.  During this important time of the year for herders they would move their animals into barns and pens in order to prepare for and ride out the long winter months ahead.   Also, this was the time that the farmers harvested their crops.   This annual changing of the seasons and the "lifestyle" was celebrated by a festival called Samhain – pronounced 'sow-ane'.   Few Christians have heard this term.  Samhain is still celebrated today as an ancient pagan festival of the dead by witches all over the world.  In some of the earliest Irish literature sources you will find mentioning's of Samhain.  Many important events surround Samhain…they either take place on Samhain or around this time period.
Samhain is one of four Gaelic seasonal festivals: Imbolc, Beltane and Lughnasadh make up the other three.  Samhain along with Beltane, bonfires were lit and rituals began.   These bonfires as well as the ashes are said to have protective and cleansing powers.  And that's not all.  They also performed many rituals that involved the bonfires.  Samhain, like Beltane is seen as a time when spirits could easily make entrance into our world.  The aos sí – pronounced 'ees shee' and the older form aes sídhe – pronounced 'ays sheeth-uh', it is usually spelled Sìth but you would pronounce it the same.  (Star Wars – Remember the Sìth – Star Wars is the most occultic movie of all time.)…is a supernatural race that some believe is the remnants of the pagan gods and nature spirits.  They are said to be ancestors, the spirits of nature or gods & goddesses and they walk among the living.
They also believe that the aos sí needed to be propitiated or appeased in order to ensure that their livestock survived the winter.  So, if you make the deity happy they will protect your livestock.  The souls of the dead were welcomed into their homes and the dead kin would also have a place of honor set for them at the table for them.  "Guising" is part of the festival.  This involved people going door to door in a disguise and reciting verses in exchange for food or coins.  (trick or treat).  Costumes were used to disguise themselves from the aos sí (the spirits).
Divination, which involved nuts and apples were a big part of the festival.  Divination is a systematic method by which the individual attempts to gain an answer to a question or a situation in their lives by way of an occultic process or ritual.   They may gain this knowledge through reading signs, events or through contact with a supernatural agency.
The Roman Catholic Church changed the dates of All Saints Day from 1 November to 2 November (they are good at changing dates— look at Christmas.  The Jews also monkey with dates…changing the Jewish calendar so that Jesus would not line up as the Messiah but a favorite Rabbi would, see my article called, "THE JEWISH CALENDAR") and it later became 'All Soul's Day'.  Overtime Samhain and All Saints'/All Souls' Day merged to help create what we now celebrate as Halloween.   Towards the end of the 20th century, Celtic neopagens and Wiccans have observed Samhain or something very similar based on it.  Make no mistake this IS a RELIGEOUS HOLIDAY but NOT a CHRISTIAN HOLIDAY.    Samhain is celebrated all over the world…and at different times of the year.  The name may change as well, but it is the same RELIGEOUS HOLIDAY.
Samhain, like Beltane was a time when the doorway to the underworld was opened to the this world.  This allowed the SPIRITS OF THE DEAD to come into our world.  The way I read this Samhain is basically a FESTIVAL FOR THE DEAD.  The Boyhood Deeds of Fionn says that the sidhe (fairy mounds or portals to the Otherworld) "were always open at Samhain".
"According to the Dindsenchas and Annals of the Four Masters, which were written by Christian monks, Samhain in ancient Ireland was associated with the god Crom Cruach. The texts claim that King Tigernmas (Tighearnmhas) made offerings to Crom Cruach each Samhain, sacrificing a first-born child by smashing their head against a stone idol of the god."  THAT'S WICKED…hey lets go trick or treating!
Ronald Hutton ((1996) Stations of the Sun: A History of the Ritual Year in Britain. Oxford, Oxford University Press ISBN 0-19-288045-4) he writes: "When imitating malignant (it will destroy you as opposed to benign which is just a pain) spirits it was a very short step from guising to playing pranks".   In other words, imitating evil spirits is about the same thing as dressing up in costumes and going door to door or playing pranks.   Playing pranks at Samhain is recorded in the Scottish Highlands as far back as 1736 and was also common in Ireland, which led to Samhain being nicknamed "Mischief Night" in some parts.  I think Mischief Night could accurately describe todays modern Halloween.   Many teenagers and young adults…play all kinds of pranks…toilet papering a tree…throwing eggs at a house…putting dog poop in a paper bag and setting it on fire so the unsuspecting victim stomps it out on their porch gets poop in their slippers and more.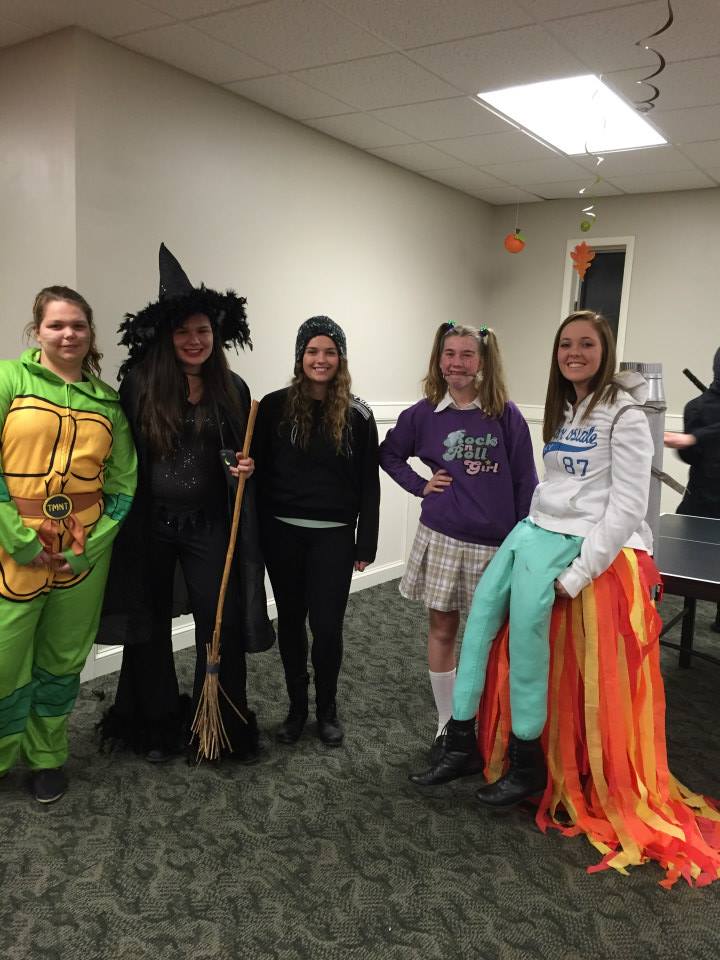 Trick-or-Treating came from the custom of going door-to-door collecting food, coins and fuel for bonfires and/or offerings to the aos sí for the Samhain festival.  Trick-or-Treating also has roots in collecting 'Soul Cakes.'  This is an English practice where given out to Soulers (mostly children and the poor) who would go door-to-door on Halloween singing and saying prayers for the dead (Idolatry, more on this later).   These small round cakes were eaten and they would represent a soul being freed from purgatory.  Traditionally the Soul Cakes with glasses of wine were set out on All Hallows' Eve as an offering for the dead.  This ritual of children going door –to-door begging for Soul Cakes on All Saints Day was known as 'SOULING'.
In 1891, the Reverend M.P. Holmes from Tattenhall, Chesire discovered the song from a little girl at the local school (Gregory, E. David (2010). The Late Victorian Folklore Revival. Scarecrow Press. p. 315. ISBN 978-0-8108-6988-2.).    In the 1950s the soul-cake song was still being collected in England.
The 1891 song contained the following lyrics:
A soul! a soul! a soul-cake!
Please good Missis, a soul-cake!
An apple, a pear, a plum, or a cherry,
Any good thing to make us all merry.
One for Peter, two for Paul
Three for Him who made us all.
In 1963, Peter, Paul and Mary, an American Folk Group recorded their version of the song and entitled it: 'A Soalin':
Soul, soul, a soul cake!
I pray thee, good missus, a soul cake!
One for Peter, two for Paul,
Three for Him what made us all!
Soul cake, soul cake, please good missus, a soul cake.
An apple, a pear, a plum, or a cherry, any good thing to make us all merry.
One for Peter, two for Paul, and three for Him who made us all.
American Hallowe'en composer Kristen Lawrence found two historical tunes associated with soul cakes, she was struck that the beginning notes were the same as the mediaeval plainchant Dies Irae, "Day of Judgment."  The lyrics call for the people to repent and pray for the dead (Idolatry, more on this later). (British rock musician Sting recorded a song called "Soul Cake".  You can listen to the song on his 2009 album, "If on a Winter's Night".   What am I saying; this is the 21st Century, head over to You Tube!  (http://www.youtube.com/watch?v=bu8H5rA9HuA).  It's a snappy little tune with a nice beat…and my head was surely a bobbin', however, the chorus will send chills down your spine!  His version seems to be an adaption of Peter, Paul & Mary; however, his refers to Christmas rather than All Saints' Day or All Souls' Day. "A Soul Cake, a soul cake…anything to make us merry.  We'll hope you will be kind…And we'll come no more a-soulin'…till Christmas time next year."
That…"a soul cake a soul cake a soul cake…" chant makes me uneasy.  Like some sort of Satanic chant.  I think I will pause and pray right now…to be honest…all of this has made me uneasy and it is scaring the hell out of me!
"Dear heavenly Father, I thank you for your outrageous love for us.  Thank you for your Word…and your knowledge.  Lord as we explore the dark side of a holiday that drips in demonic activity I pray for Your protection and your comfort.   Oh God!  I am feeling very uneasy right now.  Like someone or something is watching me and they are not pleased with what I am writing…I rebuke these demonic spirits in the name of Jesus…you are the most high God…protect me and shower me with your love.  I pray that all those that read this are blessed and educated Lord.  That they will see the truth and they will follow your law.  Thank you Jesus."
I'm am sorry, I had to do that…I am not simply filling words up on a page…I really am feeling scared and uneasy.
One thing that comes to mind at this point is that the Scripture firmly teaches that we are not to pray to anyone but the Father, The Son and the Holy Ghost.  Catholic doctrine teaches us to pray to the Saints.  Catholicism teaches it is okay to pray to Saints and other creatures.  I firmly believe that praying to anyone other than God is IDOLATRY.  I have no problem with Christians in Heaven hearing what is said on earth.  Many Christians seem to deny this fact, however, this is clearly taught in revelation 5:8-14.  Just because people in Heaven can hear the prayers on earth does not mean we can pray to them.  They can only hear the prayers and praises of God and this is only granted by God, let's not give the Saints any powers that they do not have.
"The Roman Catholic Church prefers to say that it possible for the Saints in heaven hear every prayer of every creature all the time; otherwise, it would not be possible to pray to Mary legitimately.  The standard Protestant objection is that praying to the saints implies a type of omniscience on the hearers' part. Their argument based on what we do not know, not what we do know.
There is no biblical teaching at all that states we are to pray to those who once were alive on earth and are now in heaven.  Biblically, prayer is always offered to God, and is a form of worship.  Further, prayer is not the same thing as talking to someone face-to-face.  Prayer is a humble petition to the Lord and not to a friend who's in the same room with you or on the other end of the phone — or in heaven.  Prayer is offered to God, never to any created thing.  To do so is to offer worship that should only be directed to God, which is idolatry."
The Bible teaches us to pray to God in Jesus name: 1 Pet 1:17, Eph 3:14.
By participating on Halloween you are breaking the very first commandment, Exodus 20:4, "Thou shalt not make unto thee any graven image, or any likeness of any thing that is in heaven above, or that is in the earth beneath, or that is in the water under the earth."
Certainly, anyone that prays to dead people is an Idolatress! REPENT — Acts 3:19!
Pumpkins & Jack-o'lanterns —
A traditional Irish turnip Jack-o'-lantern from the early 20th century.
Photographed at the Museum of Country Life, Ireland
One of the traditions for guisers or pranksters was to hollow out turnips or mangel wursels (beets or other root vegetable).   Once hollowed out they would place a candle in them to act as lanterns.  Quite often they were carved with grotesque and frightening faces to represent spirits or goblins.  They were also used to protect themselves from harmful spirits.  Interesting, an evil spirit to protect you from and evil spirit…no thank you…I think I will rely on my Holy Spirit.   They were common during Somerset or Punkie Night.  Punkie Night is an English custom practices on the last Thursday of October.
Children marched around with a jack o'lantern and sang a song which goes:
It's Punkie Night tonight
It's Punkie Night tonight
Adam and Eve would not believe
It's Punkie Night tonight
There are some variants of this old rhyme which also include these lines:
"Give me a candle, give me a light If you don't, you'll get a fright"
or alternatively:  "Give me a candle give me light If you haven't a candle, a penny's all right"
As Cooper and Sullivan (Cooper, Q. & Sullivan, (1994). Maypoles, Martyrs and Mayhem. London: Bloomsbury books.) explain, this relates to the tradition where children would beg for candles on this night, and threaten people who refused to give them anything.
Morrell (Morrell, Patricia; Peter Clark (Illustrator) (1977). Festivals and Customs. London: Pan Piccolo Books) explains how, in earlier times, farmers would put a traditional "Punkie" on their gates to ward off evil spirits at this time of year.
The Jack o'lantern comes from an Irish folklore about a man Jack who tricked the devil into climbing a tree.   Once the devil was in the tree, Jack carved a cross on the trunk, preventing the devil from climbing down.  The devil made a deal with jack (he is good at that) not to allow Jack into hell after jack died and all he had to do was remove the cross from the tree.  After Jack dies, he couldn't go to hell and he couldn't go to Heaven.   Poor Jack was forced to wonder around the earth with a single candle to light his way.  The candle was placed in a turnip to keep it burning longer.   In the 1800s the Irish began to immigrate to America they changed from the turnip to the pumpkin.  Along with these traditions they brought with them the black cat which is considered to be reincarnated spirits who had prophetic abilities.
Halloween is an occasion when the ancient gods (actually demons) are worshiped with human sacrifice.  The origins are not of Christian origins (notice the word "Christian" in quotes at the beginning of this essay?)  …the origins of Halloween are a mixture of old Celtic pagan rituals, demon incantations, worship of the dead, superstition and early Catholic traditions.
Many have claimed the "Christian" roots of Halloween.  I guess that all depends.  It depends if you count Catholics as Christians.  Now let me be perfectly clear.  Do I think Catholics are going to Heaven? No, absolutely not.  The Catholic Church is nothing but a cult that dabbles in blatant Idolatry, Sorcery, Islamism and Saint Worship.    However, there will be Christians that attended mass that do make Heaven, but it will not be because of their religion it will be in spite of it!  It will be because of Jesus!
Snap-Apple Night, painted by Irish artist Daniel Maclise in 1833.
It was inspired by a Halloween party he attended in Blarney, Ireland, in 1832.
The caption in the first exhibit catalogue:
There Peggy was dancing with Dan
While Maureen the lead was melting,
To prove how their fortunes ran
With the Cards could Nancy dealt in;
There was Kate, and her sweet-heart Will,
In nuts their true-love burning,
And poor Norah, though smiling still
She'd missed the snap-apple turning.
On the Festival of Hallow Eve.
The most frightening thing about the Snap-Apple painting (never mind the eerie resemblance to the drink we call SNAPPLE —which I think there is more there than meets the eye.)…it looks EXACTLY like a Church sponsored HALLOWEEN ALTERNATIVE PARTY…maybe trunk r treat or Harvest Party! Games, dancing, bobbing for apples, singing, eating…candy and more.  I mistakenly took my children to our church's trunk or treat.  First, in the church fellowship hall… it look just like the Snap-Apple painting.  They had women dressing as men, men dressing as women…witches, goblins, etc.   They were putting fake tattoos on the kids; tattoos of pumpkins, witches, black cats, goblins, ghosts, etc.   PLEASE CHURCH WAKE UP…WE ARE THE SAINTS OF GOD AND WE ARE ASLEEP AT THE WHEEL!!!!
The origins of Halloween are Celtic in tradition and have to do with observing the end of summer sacrifices to gods in Druidic tradition. In what is now Britain and France, it was the beginning of the Celtic year, and they believed Samhain, the lord of death, sent evil spirits abroad to attack humans, who could escape only by assuming disguises and looking like evil spirits themselves. The waning of the sun and the approach of dark winter made the evil spirits rejoice and play nasty tricks. Believe it or not, most of our Halloween practices can be traced back to these old pagan rites and superstitions.
Before we move on I think it is important that we have a look at how Wicca, the official religion of witchcraft, has to say about Halloween.
Perhaps they viewed the day as a simple fun and innocent neighborhood activity?
I don't know if I should be shocked or I should have seen this coming.   Halloween is a real, sacred day for those who follow Wicca. In fact, it is one of two high and holy days for them. The Celtic belief of spirits being released is current, along with the worship of Samhain (the lord of death) – both are promoted as something to embrace on that day.   I am convinced that those who believe and practice witchcraft, that Halloween represents a tremendous opportunity to embrace the evil, devilish, dark side of the spiritual world.  If you are not convinced of this, please take a trip with me to Ashland, Oregon, just north of the California border on Halloween night.  The streets will literally be filled with Wiccan…demonic activity.
SHOULD CHRISTIANS CELEBRATE HALLOWEEN
An old proverb says, "When you sup with the devil, use a long spoon." Presumably, NO genuine Christian would want to sup with the devil at all and yet many may be doing so in ignorance.
Halloween is celebrated by millions of people as a fun time for kids, putting on costumes, and going door-to-door to get candy. But it is also known as a time of witches, ghouls, goblins, and ghosts. On one hand, some see Halloween as a harmless time of fun and on the other, a ghastly and demonically inspired night to be avoided.
As Christians, there is a lot of debate on whether or not we should participate in Halloween. Is it alright to go trick-or-treating? Can we dress our kids up in costumes on that day? If we do any of this, are we celebrating an evil holiday?
My son, Joshua is just six years old told me, "daddy all the people that think Halloween is a Christian Holiday is lying it is actually a devil holiday."  Now how in the world did my six year old figure this out and YOU HAVEN'T?
My daughter Rosebud, my 11 year old daughter has an answer for those that believe that Halloween is a Christian Holiday, "Well that just explains it all!  Kids dressing up with blood all over them, pitchforks and tails with triangles on them (obviously her observation of a devil), ghosts and goblins and witches…I don't even get that.  Yeah, it's a Christian Holiday."
To be honest, on the surface it is clear that Halloween is a satanic holiday…and should scare the bezeebers out of us forcing us to recite the Scripture, "greater is He that is within me than He that is in the world."  Let alone the history which we have just uncovered…if you really are a Christian as you claim to be…you should have a very uneasy feeling in your spirit…you should be scared as hell.
A few points about Hallowen:
October 31st has long been known as "The Festival of the Dead." The Celtic tribes and their priests the Druids celebrated this day as a marker for the change from life to death.
Witches celebrate Halloween as the "Feast of Samhain," the first feast of the witchcraft year. Being a festival of the dead, Halloween is a time when witches attempt to communicate with the dead through various forms of divination.  Christians should not be involved with occultic practice or divination. Note God's command against divination in Deuteronomy 18.
Villagers, fearful of the possibility of being visited by the ghosts of past occupants, would dress up in costumes to scare the spirits on their way. They would also leave food and other treats at their door to appease the spirits so they would not destroy their homes or crops but instead move on down the road. Occultists also would try to scare away the spirits by carving a scary face into a pumpkin.
In some witchcraft covens, the closing ritual includes eating an apple or engaging in fertility rites. In the Bible (Genesis 3), eating a piece of fruit brought sin and death into the world. In witchcraft, eating an apple is symbolic of bringing life. The practice of bobbing for apples brings together two pagan traditions: divination and the fertility ritual.
Schools are removing any religious significance from Christmas (often called winter break) and Easter (spring break). Isn't it ironic that most public schools still celebrate Halloween even though it has occultic origins?
Participating in Halloween gives sanction to a holiday that promotes witches, divination, haunted houses, and other occultic practices.
Source: These bullet points were barrowed from Probe Ministries in Richardson, Texas. (http://www.fillthevoid.org/Occult/TenReasonsChristiansShouldNotCelebrateHalloween.htm)
Some of you are not interested in what the Bible commands, however, you have stuck with me thus far, we know with certainty that we as Christians, as Saints of God, as Ambassadors of Christ that we are forbidden to become involved with the works of darkness (Ephesians 5:11). "And have no fellowship with the unfruitful works of darkness, but rather reprove them."
As a minister of the Gospel and being saved for over 25 years I have seen the devastating effect on lives when this commandment is broken.  Remember, God's promise of protection for ourselves and that of our children is for those that are in His will and that promise may no longer hold true if we allow our children to celebrate this dark religious holiday.  Rebellion is the same as witchcraft the Bible tells us.  Ever wonder why children raised in an environment where Halloween is celebrated are in rebellion!  It is difficult enough to raise our children in a Godly manner in this day than to purposely expose them to Satan and the realm of darkness.
Satan and his demons have created a maze of 'alternate religions' to keep as many people deceived and confused as possible.  A brief study of history will show that Satan as introduced one false belief system after another.  He knows that our love for God and our God given desire to serve Him can easily be short circuited by these false religions.  He has told one lie after another: "all roads lead to God".  Some uneducated Christians or Christians who refuse to hear the truth believe this lie.  All roads do not lead to God.  There is one God, the Creator of all.  Jesus is the ONLY Road to God and without Jesus Christ, there is no salvation.
It is clear, and all Christians need to know this, the devil wants to deceive us and keep us from discovering the truth.  Can we agree on that much today?  I am writing this for Christians, my brothers and my sisters.  The Church and Christians make one compromise after another.  Where in God's Word and it is just a question, where does it say we must compromise with the world and become tolerant of other religions and sin?  Show me and I will never again preach the Gospel.  If that is so, then I am wrong…wrong about everything I know to be true of God.
You might say, Brother Kevin…my kids dress up as Barbie, Mickey Mouse or Pirates.  I always go with them, so that they are safe.  We never carve scary faces on pumpkins.  We have so much fun decorating our yard as a cemetery.  First, let me ask you mom, dad…what happens when you take your children tout Guising in their Barbie Costume and their Pirate Costume (arrggg!!!) and they see other children dressed as demons, ghosts, hookers, witches and an assortment of other occultic creatures?   What do you say to them?  WAIT!  Don't answer me too quick.  Think…think…I know it hurts…but think!  You are building a foundation with your children and right now you have a moment.  What will you say?  What can you possible say that will not mold them and how they think about the occult?
If you say, "It's okay Sarah; it's all fun…just fun."  You have just taught your child that it is OK to emulate evil and THAT IS WHAT THEY WILL REMEMBER.  1 Thessalonians 5:22 says, "Abstain from the APPEARANCE of EVIL."  How about this one mom, "Oh honey, just ignore them…they are not Christians and they do not know any better."  Congratulations mom, you have